The Falling Sky
by Pippa Goldschmidt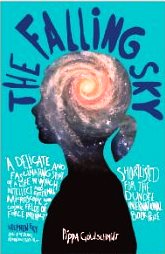 Jeanette is a young, solitary post-doctoral researcher who has dedicated her life to studying astronomy. Struggling to compete in a prestigious university department dominated by egos and incompetents, and caught in a cycle of brief and unsatisfying affairs, she travels to a mountain-top observatory in Chile to focus on her research. There Jeanette stumbles upon evidence that will challenge the fundamentals of the universe, drawing her into conflict with her colleagues and the scientific establishment, but also casting her back to the tragic loss that defined her childhood.
As the implications of her discovery gather momentum, and her relationships spiral out of control, Jeanette's own grip on reality is threatened, finally forcing her to confront the hidden past. Pippa Goldschmidt's bittersweet debut novel blends black comedy, heart-breaking tragedy and fascinatingly accessible science, in this intricate and beautiful examination of one woman's disintegration and journey to redemption. (Book jacket)
Oldenburg Book Club, 29 June 2015. Read discussion notes.